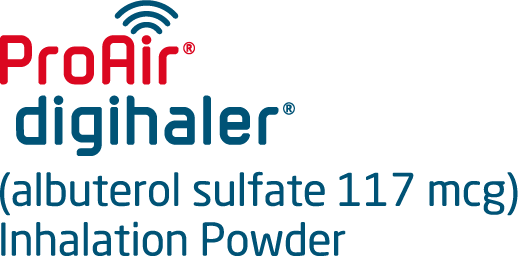 A digital rescue inhaler
Records events and provides inhaler data, which may help your doctor personalize your treatment plan
*
*Inhaler use is recorded as an event when a patient opens the cap or inhales.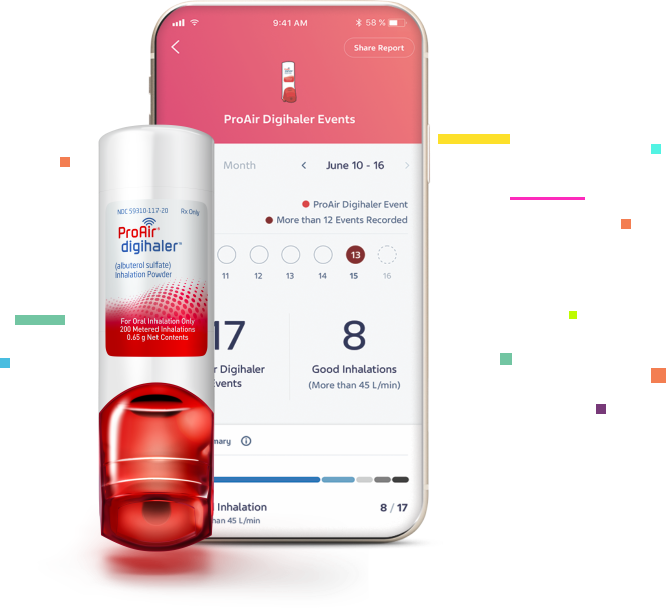 PROAIR DIGIHALER
PROAIR DIGIHALER SYSTEM
A digital, breath-actuated, dry powder rescue inhaler for people 4 years of age and older to:
Treat or prevent bronchospasm in
those who have reversible obstructive
airway disease
Prevent exercise-induced bronchospasm
Do not use ProAir Digihaler if you are allergic to albuterol sulfate, lactose, milk proteins, or any of the
ingredients in ProAir Digihaler. Ask your healthcare provider if you have any questions.
HOW THE DIGIHALER SYSTEM MAY HELP YOU
Be more informed about your inhalations
Monitor rescue inhaler use*
Do you remember how often you use your rescue inhaler? For example, in the middle of the night? ProAir Digihaler has your back! It will keep track and may help you determine if it's time to talk to your doctor.
*Inhaler use is recorded as an event when a patient opens the cap or inhales.
Explore the Digihaler system
Learn how to get started and how you can begin saving on Digihaler.
Set Up Device
HOW TO PAIR YOUR INHALER AND THE APP
Connect your smart inhaler to the app to begin tracking your inhalations
SIGN UP TODAY
For the Digihaler Savings Program
Most commercially insured patients pay just $20 for each inhaler in the Digihaler family.*
Out-of-pocket costs may vary based on insurance coverage. Limitations apply. See full Terms and Conditions for eligibility restrictions.
*Offer covers commercially insured patients only.
Please note, this offer is not available for patients eligible for Medicare, Medicaid, or any other form of government insurance.
Sign up