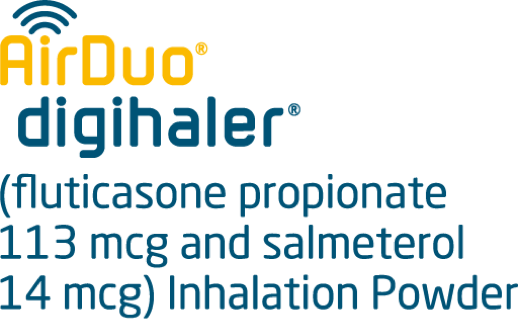 A digital maintenance inhaler
Captures how well and how often you use your inhaler
*
†
*As measured by inspiratory flow.
†Inhaler use is recorded as an event when a patient opens the cap or inhales.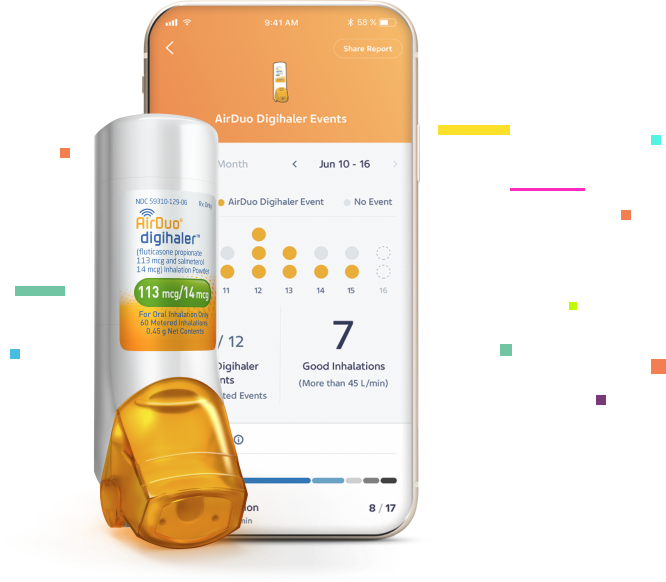 AIRDUO DIGIHALER
AIRDUO DIGIHALER SYSTEM
A digital, breath-actuated, dry powder maintenance inhaler.
It is a prescription medicine used to
control symptoms of asthma and prevent
symptoms such as wheezing in people 12
years of age and older.
It should not be used to relieve sudden
breathing problems from asthma and
won't replace a rescue inhaler.
Do not use AirDuo Digihaler if you have a severe allergy to milk proteins or if you are allergic to any of the ingredients in the product. Ask your healthcare provider if you are not sure. Do not use AirDuo Digihaler more often than prescribed.
HOW THE DIGIHALER SYSTEM MAY HELP YOU
Be more informed about your inhalations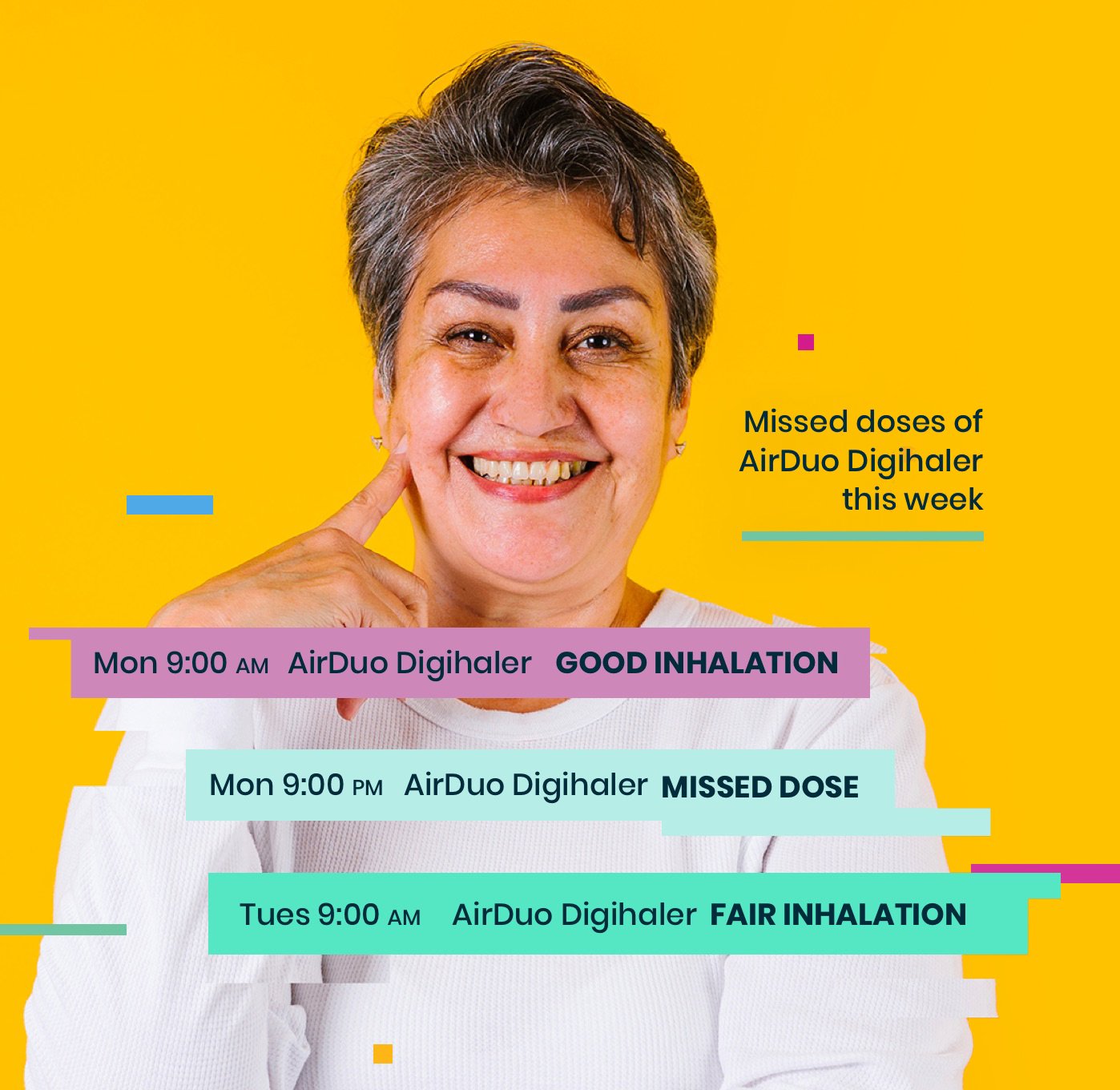 Identify missed doses
You can check the app to see your inhaler events, including when you used your inhaler last.†
†Inhaler use is recorded as an event when a patient opens the cap or inhales.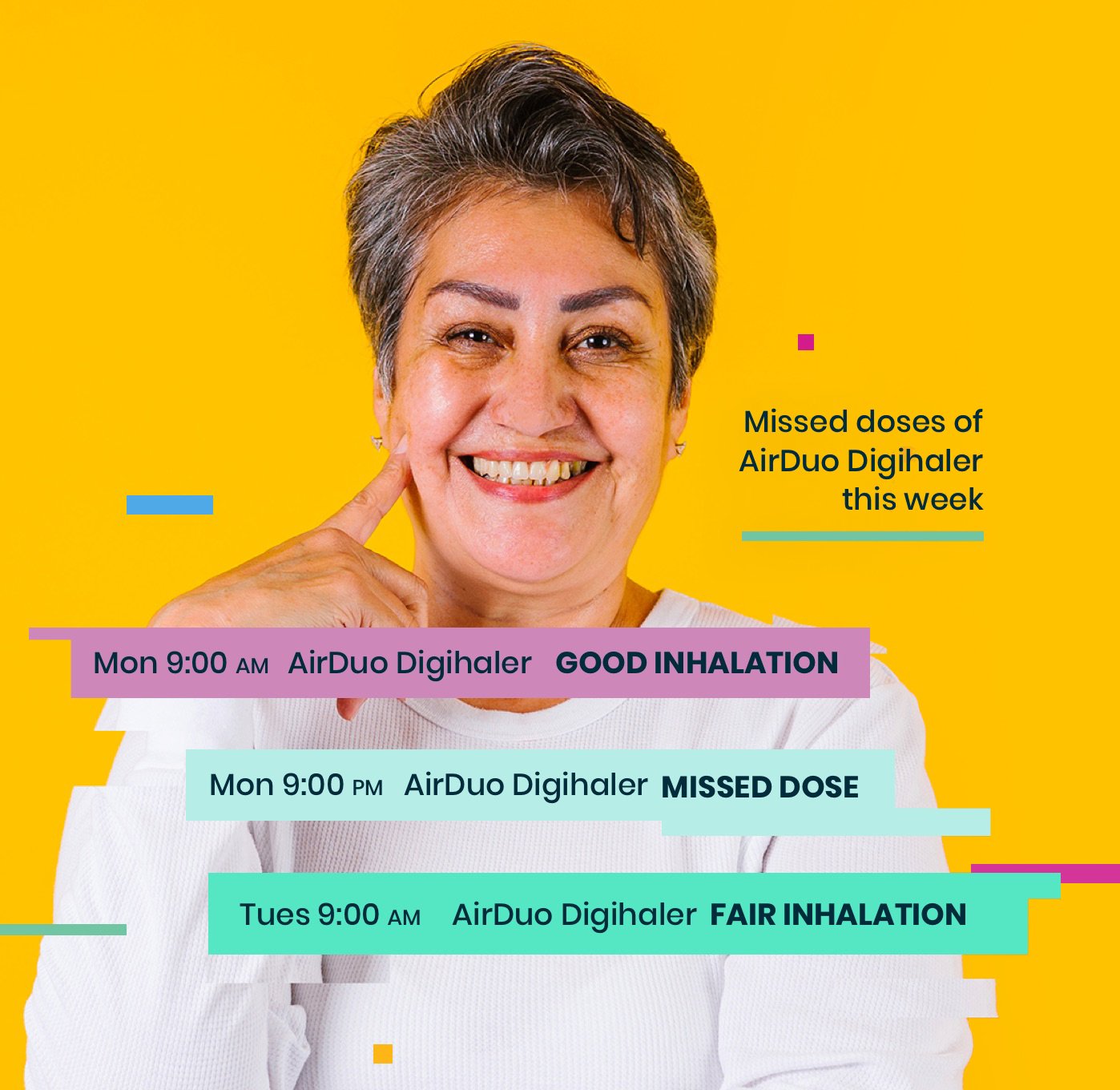 Explore the Digihaler system
Learn how to get started and how you can begin saving on Digihaler.
Set Up Device
HOW TO PAIR YOUR INHALER AND THE APP
Connect your smart inhaler to the app to begin tracking your inhalations
SIGN UP TODAY
For the Digihaler Savings Program
Most commercially insured patients pay just $20 for each inhaler in the Digihaler family.*
Out-of-pocket costs may vary based on insurance coverage. Limitations apply. See full Terms and Conditions for eligibility restrictions.
*Offer covers commercially insured patients only.
Please note, this offer is not available for patients eligible for Medicare, Medicaid, or any other form of government insurance.
Sign up